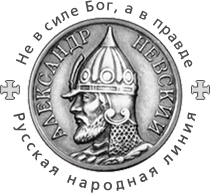 Moscow – Valerii Khatiushin, a Russian publicist writer, who serves as the chief editor of the old Russian monthly "Molodaia Gvardia" ("Молодая гвардия"), published on the nationalist portal ruskline.ru an article called "New Khazaria – not a myth" (Новая Хазария – это не миф), in which he presents the "Jewish-Ukrainian tribe" (Zhido-Khokhlov) working against the Christian world in the mission of the West.
According to Khatiushin, modern Ukraine is a combination of Jewish Hasidim with Ukrainian Nazis, which he calls Zhidokhokhly (Zhid – Kike, Khokhol – a derogatory term for Ukrainians).
Khatiushin urges his readers not to be surprised, the Jews are the ones who rule Ukraine, while promoting the Nazi ideology and deceiving millions of Slavic-Christian-Ukrainians, who were deceived by these false maxims.
Khatyushin compares the situation in Ukraine with the situation in the land of the Khazars, where the ruling class was also religiously Jewish, while the common people were not.
Therefore, Khatiushin maintains, the fact that the country is controlled by the Jews is the basis of Ukraine's hatred of the Orthodox Christian Church.